All I can say is WOW! The HTC innovation team has done it again. If you haven't had a qwerty phone before and you're really thinking about getting one, HTC Desire Z is your baby. I can't remember the last time I was so excited about an upcoming phone.
I've been looking for a qwerty phone running Android for almost a year now, and like many times before HTC has come to the rescue. Lets take a closer look what this high tech smartphone has under the hood.
Some of you may remember the goold old Qtek (Old HTC name) 9100 or i-mate JAM, which was a really good phone back in the days. That was my first ever qwerty phone and I loved it to death. Seeing this new HTC Desire Z brings back a lot of good memories from the early days of  HTC and I know the HTC Desire Z will be the same quality plus so much more.
There are so many great features, I don't even know where to start. If you juggle more than one email account, you'll love how you can now see all your accounts in a single inbox that automatically color codes each email by account. And don't worry about clutter – handy email filters sort them by groups, importance, or content.
If you've got your family over for a visit and want to show your latest photos, videos or music on the bigscreen TV – no problem. Stream your pics, videos and music from your phone to your home theater system via DLNA. Gather the family around. It's show time!
You'll also get a 5.0 megapixel camera ( not exactly stunning, but I don't care if it's a 5 or 8 MP camera) with a built in flash and HD video recording, Android 2.2, direct keyboard shortcuts and a ton of new other features – this phone is PACKED! Use "Locations" to find the closest shopping mall, the closest coffee shop or pub. Locations will get you there no matter what. Use "Quick Lookup" virtually anywhere on your phone to lookup highlighted text in the google dictionary or wikipedia. Last but not least there is HTC Sense which also can be found at HTCSense.com. HTC Sense makes it the perfect phone for online and offline experiences.
I don't want to waste your time because ALL the most important new features are put together in a great video below, made by HTC. Once you're done watching the video and you still don't understand the greatness of this phone (depending on your needs ofcourse) we've got a problem at hand. Have fun watching, and don't let your jaws drop too far under the table :)
Pinch and tap – sooo quietly brilliant!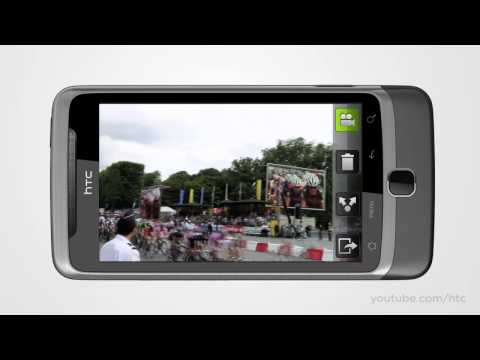 Oh, and please leave the iphone out of this :)